I took a detour more than 15 years ago upon graduating from the Hartt School of Music at the University of Hartford. My plan was to further my studies in opera. I'd determined this at age 13 during a tribute concert in Japan for Ronald and Nancy Reagan. I was a budding tenor, a vocal infant really, but I was 13-years-old, a featured soloist with the renowned Boys Choir of Harlem performing in the world's most renowned concert halls, and I wore my hair in a high top fade with waves, which all the girls liked (I think). You couldn't tell me nothin'.
Until I heard a voice say, "Young brother, come here. I want you to hear what a real tenor sounds like." It was one of the adult singers hired to add girth to our adolescent tenor and bass section. That's when it happened, my Road to Damascus moment. All I remember was the master of ceremonies' introduction: "And now, Ladies and Gentlemen, Ronald and Nancy Reagan's favorite tenor, Mr. Placido Domingo." Suddenly, there was this sound I'd never heard before that utterly shattered me. Everything and everyone but Domingo went dark. I was raptured, and I knew right then and there, "I am going to be an opera star!"
I realize now that somewhere God was having an ethereal chuckle at my expense. In this instance, the Proverb is true — "A man's heart plans his way, but the LORD directs his steps." Nine years later, I received a call from someone on behalf of the director, Phil McKinley, who so happened to be directing the latest installment of The Greatest Show On Earth and seemed eager to extend to me an invitation to audition for Ringmaster. After three auditions, I was selected as Ringmaster for the 129th Edition of Ringling Bros. and Barnum & Bailey Presents The Living Carousel.
The plan was to do this "circus gig" for a year or two, raise some money, give Sallie Mae her money back and get to the business of fulfilling my destiny on the opera stage. Still not grasping Heaven's agenda, a kind, older Ringmaster, who I'm sure must have sensed my severe naivety, welcomed me with these prophetic words: "Son, once the sawdust is in your veins, you'll never be the same."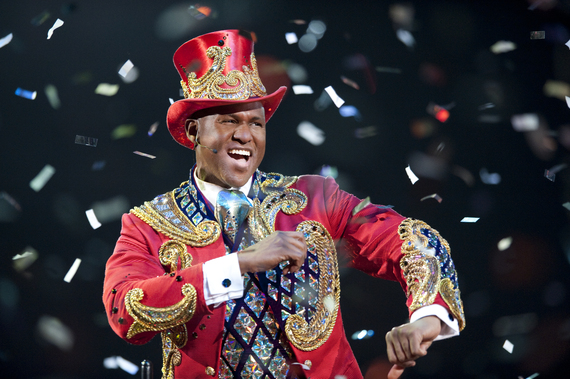 Fifteen years later, I can say truer words have never been spoken. As Ringmaster of
Ringling Bros. and Barnum & Bailey Presents LEGENDS
, touring the country for the next two years, I've been afforded the best "seat" in the house while wearing the finest duds ever sown.
At his or her core, the Ringmaster is a glorified fan narrating, even singing, what Ernest Hemingway mused was "a living dream." And who wants to "awaken" from a dream that includes seven daring brothers and their sister spiraling at a pace of breathtaking velocity atop their high speed motorcycles inside The Legendary Globe of Steel; the aerial feats of arguably the most brilliant flying trapeze troupe ever assembled; eight flawless beauties suspended in midair solely by the strength of their hair; the alluring King of the Big Cats who communes effortlessly with the jungle's most revered inhabitants; the delightful antics and athletic prowess of a man whose giant talents belies his diminutive stature; and, of course, a renowned menagerie of valiant steeds, comical rescue dogs, perky pigs, high stepping kangaroos, prancing pachyderms and even a Unicorn, Pegasus and Woolly the Mammoth?
During this humbling fifteen year detour, it has become clear that what distinguishes circus from all other performing art forms is that you're not just making art; you're living art. As for me, I'm living history. Upon joining The Greatest Show On Earth, at 22 I was deemed the youngest, first New Yorker and first African American ever to don the famous top hat and tails. However, I wrestled with what I thought to be rather trivial.
It wasn't until a performance at the United Center in Chicago, IL for which my grandparents were in attendance that what I thought was trivial suddenly made sense. My grandparents, who had never attended a circus or, rather, were not allowed to attend a circus, sat awestruck like a pair of six year-old tykes. My grandfather, who had come close to being lynched in his youth as a young preacher and activist, remarked pensively, "You know Johnny boy, there was a time when I couldn't sit here. Now, I can sit anywhere I want, and enjoy my boy, in the middle of it all," he chuckled.
Unbeknownst to my grandfather, he had set me straight. It's not trivial, it's a tribute to those glorious souls whose courage is the dowry for which, as the great American scribe James Baldwin observed, "Our crown is already bought and paid for. All we have to do is wear it." Well, my custom made top hat will have to do, but I tip it to those whose sacrifice made my way possible.
This enchanted sawdust adventure has taken me across the United States and Mexico numerous times, viewing miles upon miles of landscapes through the windows and on the vestibules of the iconic Ringling Bros. and Barnum & Bailey Great American Circus train which has been on the rails since 1872. I've been afforded the opportunity to live the progress to which the so-called real world merely gives lip service. The diversity of cast and crew is second to none, and this most enduring of American brands is produced, managed and directed by a diversity of women.
Perhaps, one of the grand ironies of my life is despite my formidable 6'5″ frame, I've never been much of an athlete. Actually, that's an overstatement. Think of every stereotype you have of the strapping Black athlete, and then scrap it. That's me, and yet, I have played before tens of millions in practically every major sports venue imaginable. I've enjoyed the company of Heads of State, Academy Award winners, Hall of Fame athletes and rock stars.
Best of all, I've enjoyed the spirit of community we're able to foster in the cities we visit. Be it our renowned Clown Alley bringing much needed smiles and laughter to children's hospitals, partnering with the wonderful people of Special Spaces, working with Metropolitan Ministries food drive, or visiting schools and organizations such as the Boys & Girls Clubs of America along with our amazing diminutive titan, Paulo, as he ignites the hopes of children from every walk of life with his remarkable story of triumph in the face of bullying, our mission, as founder P.T. Barnum expressed, remains the same, be it in performance or in the community, "The noblest art is that of making others happy."
I am forever grateful that I detoured.
Copyright 2014 http://www.huffingtonpost.com/johnathan-lee-iverson/the-adventures-in-the-det_b_4877343.html