She was grinning from ear to ear. Her honey-brown complexion was beaming like the noon-day sun in the middle of a Texas summer. Her gait was a gleeful bounce — the kind most kids have around December 24th when they know exactly what Santa brought them this year.
"I did it!" she exclaimed. Clinched in her hands I noticed a book entitled Can You See Me? by Sjana Venson. I was elated and dazed all at once. My friend was a published author and I couldn't have been happier — but how? Between her epic workload and budding business, when exactly did she have the time?
Sjana Venson is Purchasing Coordinator for the Blue Unit of Ringling Bros. and Barnum & Bailey. She is tasked with coordinating the purchasing needs of over sixteen departments. "I am basically the personal shopper for the entire show. My responsibility is to source, purchase and coordinate all the needs of the show," she says.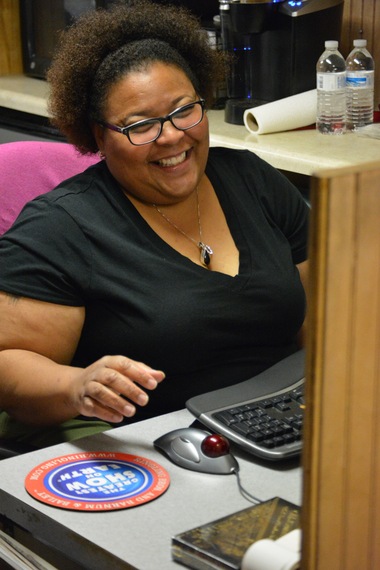 On a weekly basis and as needed she is responsible for locating and purchasing everything from feed, bedding and enrichment products for our diverse menagerie to forklifts and fencing. She arranges for equipment repairs, dry cleaning and routing the flood of package deliveries to the show each week. She also locates all the local vendors around the country to accommodate the operational needs of the circus. If you're thinking this is a matter of merely pressing a few keys on the computer or making a simple phone call, you're mistaken. This is the circus — where the unexpected is our normal. When a generator breaks down that could potentially leave the Ringling Bros. and Barnum & Bailey Circus Train without power, Sjana gets the call. Sjana Venson's profession doesn't leave much time for her to have a personal life or to work on personal projects.
Venson's first love is for the culinary arts. She credits her mother and grandmother for instilling her with a love for cooking. In fact, Sjana began her career with The Greatest Show On Earth with our food services department feeding the nearly 300 cast, crew, and staff of Ringling Bros. and Barnum & Bailey daily. A one-time cook at Hickam Air Force Base in Hawaii, Sjana grew tired of being so far from the mainland. So, upon viewing an ad for a position as a cook for Ringling Bros., she jumped at the chance. Obviously, she has since transitioned to another position within the company, but her culinary skills are as solid as ever, as is evidenced by her successful baked-goods venture, Sjana's Sweet Spot. Her homemade scrumptious like Monkey Bread, Lemon Kisses, Ho Hos and Fluffy Mint Pillows are all ravenously consumed by cast, crew and others during our busy weekend show dates.
Yet, how does she find the time to juggle a demanding career, a business, and write a book? "It was very hard to do, mostly because I was not giving equal time or energy to each of them," she says.
I don't know much about juggling, but I do know some very good jugglers; and it is clear to me that the basics of juggling are balance and the coordination of time. Sjana continued, "one day I found myself complaining about things not happening for me, when I heard a voice say, 'MAKE TIME!' I had no answer for that, so I started to make time, even if it was only 20 minutes. For those 20 minutes I focused on my dreams."
It was a struggle. There were doubts, and worse — there was fear. "Success is scary!" says Sjana. "Don't get me wrong, I've had success in my life, but none that were as big as publishing my book," she continues. "We all know how to navigate failure; you put safeties in for all occasions. But success — what do you do with that? Where do you go from there?"
Nevertheless, Sjana determined that pursuing her passions, no matter how daunting, was far more important than any doubts or fears she might have harbored. "It wasn't easy, but blaming others, sitting and sulking were not getting me anywhere," she says.
Our passions can lead to two things: They can be pursued with our best effort or they can consume us with regret. While our circumstances and resources might vary, the audacity to "go confidently in the direction of your dreams," in spite of those whispering doubts is quite literally a matter of living or merely existing. Sjana Venson's choice, however daunting, however haunting her fears — was to avoid denying her passions. This way, she did not end up drifting in an existence of regret. "I had to make it happen," she asserts.
Her circumstances required she juggle — or, as that voice she heard demanded, "Make time!" For Sjana Venson it was a simple formula that according to her has been the blueprint to her achievements. "Write it all down," she says. "Figure out what you're most passionate about. Then day by day, make time. It may only be 10 or 15 minutes, but you have to take those few minutes and make the most of them," she continues. Finally, said Venson, "pray on it, but be willing to listen. You have to give to get. Invest in yourself. However small, it adds up. You will be rewarded."