Three years after I married my wonderful wife, our beloved son was born. He had me at the sonogram. He was merely a centimeter when we first saw him, but he was the most precious centimeter I'd ever laid eyes on. When he was born I became certain of two things: first, I never wanted to be away from him and; second, after watching my wife give birth, the idea that men and women are equal is an absurdity. These feelings were repeated when my daughter was born a few years later.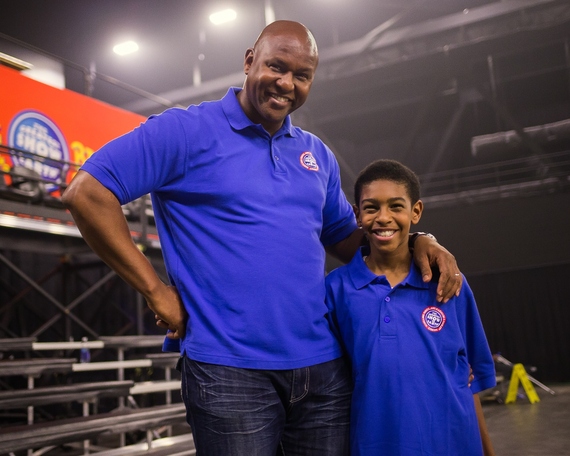 Parenting, as I've come to realize, is a tremendous balancing act in which you, the parent, attempt to reconcile how your child can be so much like you and yet completely his or her own person. It's being reintroduced to yourself, but you are not exactly a complete stranger.
I absolutely love being a father. It has its challenges, but it wouldn't be love if it didn't. It's a privilege to love someone simply because they are, just as it's a privilege for me to receive love simply because I am. My daughter is of the age where my very presence is a cause for celebration.
Perhaps that's been the most surprising wonder for me in this adventure called fatherhood: presence. To know how much being here, present in their lives, means to them and, in many respects, how much it means to me. It has been a revelation of sorts. We are mistaken if we believe our children require much. The act of showing up and paying attention to who they are and informing who they become is the fundamental building blocks of the parent-child relationship.
I wasn't as fortunate as my children. My father played a cameo role in my life. He and I bonded, somewhat, over debates about our favorite prize-fighters during drives to Brooklyn from Manhattan for visits with my grandmother. Muhammad Ali seemed to be our only point of agreement. That's about as intimate as it got between us.
Nevertheless, I was always blessed with some wonderful surrogates — be they uncles, godfathers, teachers or even my older brother. I gained confidence in being a performing member of a world-class boy choir. I had a talent that was opening remarkable doors for me. I actually came to the point where I convinced myself that my father wasn't necessary — so I thought. However, the emotional life of men and boys is far more complex than our society has yet to realize and it would do us well to recognize and rectify this. No one goes unaffected by the absence or failures of a parent. It took my father's sudden death for me to realize this. Despite all those amazing surrogates, all the success, even the wonder that is my mother, I was missing something.
The day before he passed away, we had the most engaging conversation. I wouldn't grasp it until 24 hours later, but he seemed to be condensing everything a father would say to his son over a lifetime into one conversation. He spoke to me about everything from money to relationships, but what has stayed with me until this day is what he told me about his own journey of reconciliation with his father. He recounted all the heartbreak and disappointment he carried into his adult years, which created enmity within him against his father and may very well have informed his own life's choices, but he would ultimately come to understand and even forgive his father. This was his apology to me. He didn't say it, but it was clear, as it was confirmed in his last words to me that day: "You have to do better." He gave me permission to not walk in his shoes.
This year, my son is joining me in the highly anticipated Ringling Bros. and Barnum & Bailey® Presents Out Of This World™. It's been utterly surreal watching him stand in center ring, looking like a young incarnation of me, and belt out those famous lines, "Ladies and Gentlemen, Children Of All Ages…" Not a hint of hesitancy or trepidation is to be found in him. He's been the absolute paragon of confidence during this long and arduous rehearsal process for the show. It's his first job and he's only 11 years old. I was 11 years old when I stepped foot into the rehearsal halls of the world-renowned Boys Choir of Harlem to begin my journey in entertainment. It was work for sure, but it was certainly not employment.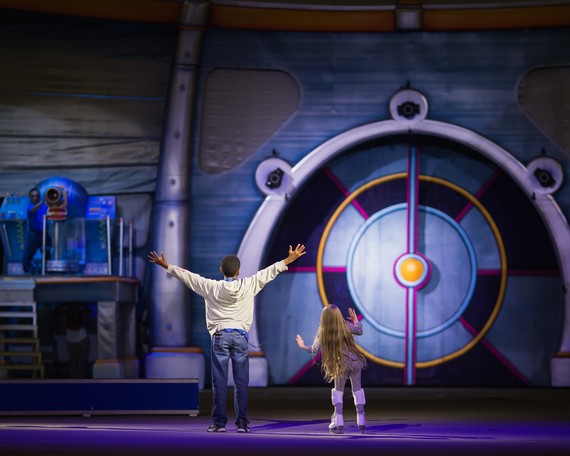 Happiness cannot begin to describe how my son felt upon being asked to join the cast of The Greatest Show On Earth®. As close as we are, I seriously had no idea this might be something he would even consider. He's far more cerebral than I was when I was his age. He's always reveled in the process that goes into the building of a Ringling Bros.® show, how it's made and how it all comes together. He's fantastically creative. Place him in a playground or park, and with just a few sticks, rocks and some dirt he'll construct an entire habitat. He's always been the kid with the blocks, Legos and such, although lately he's been veering toward coding. I never would have taken him to be someone who wanted to be a performer.
Yet, as I've had the pleasure to watch him work in these rehearsals, it is obvious he's been watching his dad for quite some time. I can tell from his intonation to his posture that he has. He is quite good; in fact he is very good. What's most impressive is that he has grasped the responsibility of such an opportunity and what he must do to keep it and succeed in it. It's been a growing experience for me as well. I've purposely stepped back and allowed him to learn, fail, and succeed on his own – not the easiest thing to do for a father, especially watching my son attempt my trade. However, he's made it so much easier with his ability to take direction and respect the environment he is in.
Following in the footsteps of parents is a culture in and of itself in the world of the circus, whether in families of animal trainers, daredevils or producers. In fact, my son is cast alongside the daughter of our star clown Davis Vassallo. When your child steps into your shoes (or in my case, my boots) or has the desire to do so, it is by far one of the greatest testaments to the bond between parent and child. You realize as a parent that much of what your children will learn from you is often left unsaid. Make no mistake, your children are terrifically aware, no matter the age. They're truth machines. They may not always be capable of articulating it, but they see us for exactly who and what we are. Now my son gets to peek behind the curtain and fully engage in the process, as well as learn who I am, en route to the spotlight. And I get to be present while he does it. I think I might manage "…to do better" after all.