For an artist, the act of auditioning comes with a host of challenges. Anxiety about the audition process in and of itself is enough to discourage the average person. The reality for most who endure the long lines hoping to secure a place in a show, program or school, etc., is often a series of rejections. I was naïve upon leavingThe Greatest Show On Earth® in 2004. I thought I could simply walk into any audition and acquire the role. After all, I had the talent, right? Right, I did. But so did many others. However, what I came to discover about the audition process is that casting is also a kind of craft. As I meandered day to day from audition to audition I learned the hard lesson that it is not always your talent, but in many cases, your type that gets you a role.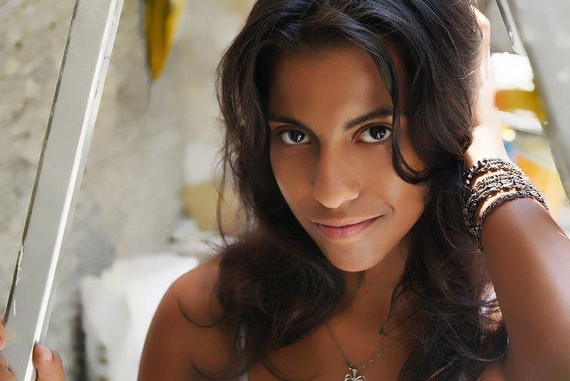 It was a hard reality to accept, but for most parts you already have an idea of what fits the casting needs before you step foot in the room. I would have never thought in a thousand years that I could be too tall for a role. Yet, that's exactly what the gentleman casting a musical I was auditioning for said. "I don't even want to waste your time. I love your voice, but you're too tall for the part." I was always grateful to that man for his candor. Then and there I understood that the business of auditioning is truly an act of endurance. You keep rolling along until you find a role that suits you.
By the time Carol Grego stepped forward for her dance audition for Ringling Bros. and Barnum & Bailey®, she was terrifically at ease. "I felt no pressure," she said. At barely 4'9″ she knew the topsy-turvy world of auditioning all too well, especially as a dancer. "The challenge (of being a diminutive performer) is huge," said Carol.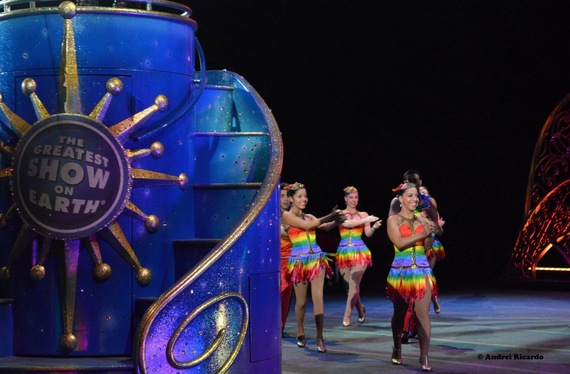 A native of Brazil, Carol, along with her twin sister, Ana Paola, took to dance as a young girl in her hometown of São Paulo. It was offered among many programs at her school. At 13, along with her mother and sister, she relocated to Rio de Janeiro. There she would meet with the cold reality of the audition process. She and her sister would attempt to enroll in the prestigious Teatro Municipal do Rio de Janeiro (Municipal Theater of Rio de Janeiro). "We worked so hard," she said. But in the end they were not accepted. Carol suspected her height likely was a factor. Never given to despondency, she would pursue other dance programs including the Cia. de Dança Marcia Lacombe. There she would broaden her dance craft by learning a variety of styles including jazz, tap and hip-hop. She spent a number of years immersed in her craft, seriously considering her future as a professional dancer.
However, life would issue a cruel turn when her mother was diagnosed with breast cancer. "I stopped dancing for almost two years, so I could care for my mother," she said. Their relationship was what empowered Carol to believe in herself beyond the limits society might hoist upon her. Unfortunately, though Carol's mother would wage a most courageous effort against her ailment, she would succumb.
Somewhere during her hiatus away from dance and in the midst of her grief Carol found her way to Crescer e Viver (Grow and Live), a well-regarded circus program in Rio de Janeiro. Perhaps a precursor of her future endeavors, it was there she learned clowning and acrobatics as well as other circus skills. However, Carol, a dancer in her soul, felt a return to her roots was beckoning her. "It took me a year to get back in shape as a dancer. It was the hardest thing I've ever done," she said.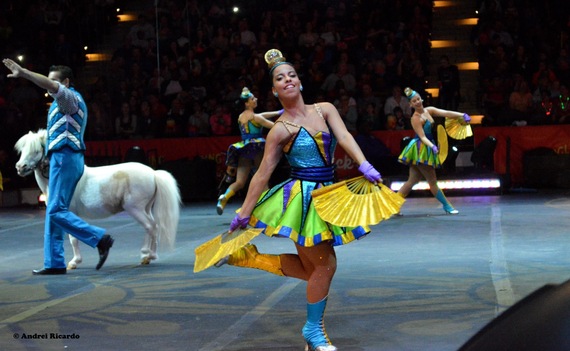 Soon enough, Carol would return to form and would be selected to join Ringling Bros. and Barnum & Bailey as a dancer. Of her experience with
The Greatest Show On Earth, she says, "I love the diversity of the people in the circus, and performing in a place where I'm not the shortest person in the cast isn't so bad." She laughs, referring to her fellow Brazilian and star of Ringling Bros. and Barnum & Bailey Presents LEGENDS℠, the Amazing Paulo dos Santos — our 4-foot-tall martial arts and acrobatics dynamo.
"People always say to me, 'you're so small, but when you perform you're so huge,'" says Carol. For her, it is all about how one purports one's self. Height and mass do not necessarily endow a person with presence. More often than not, it is a matter of attitude and effort. "I'm naturally shy," says Carol, "but when I perform I feel larger than life."
Much like her colleagues and fellow dancers, Carol exudes a fierce sense of confidence with every pose and step — drawing in the wonder of audiences. As for those self-doubts and the doubters who might still assert that 'size matters', Carol chuckles, "just put some heels on!"