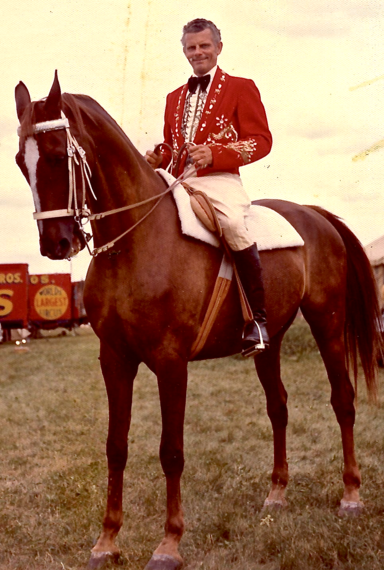 His voice is what I remember most. Its timbre was bathed in authority. It wasn't the kind that evokes intimidation, mind you, rather the sort that would cause you to recognize that he was a person worthy of your respect. By the time I'd heard his voice, it had all the seasoned depth of a lifetime of presenting, lecturing and teaching about his greatest love — the circus.
I became acquainted with Col. John Herriott around 2005 during an event at the famed Ringling Museum in Sarasota, FL where he was the evening's host. Though recently retired, he still bore a magnetic presence. It was rather surreal for me as I am not one easily mystified, but Col. Herriott had me at "hello." He was simply captivating. It was impossible not to hang on to every word and phrase he uttered. I wasn't alone. It was clear how vast and universal the respect he commanded from onlookers and peers alike.
"Respect is a mild reference to the reverence his peers paid to him. John Herriott was iconic," is how Bill Powell remembers the man he referred to as "Uncle Johnny." "He was the ultimate raconteur of the circus world," said Powell. "Be it the circus ring before thousands or the backyard, he could hold an audience in the palm of his hand."
"He lived and breathed circus," said daughter Cristine Herriott. Animal trainer, performance director, ringmaster, circus owner, teacher, historian, the poet laureate of the circus world (and I'm certain I've missed at least a dozen more), Col. John Herriott was all at once an everyman, yet, head and shoulders above the everyman. Without question Herriott was one of the most important figures in the history of the American Circus, and his is a story that reads like a classic frontier novel. A direct descendant of adventurer Zebulon Pike, his love of all things sawdust began at the knee of his father Milton Herriott, a noted animal trainer and performance director in his own right.
"Dad liked to say, 'I got my break as the ass end of a Jargo!'" laughed daughter Heidi Herriott. "He was 6 years old."
But it would be his remarkable ability for training animals that would place John Herriott among the elite in his field. During his long and brilliant career there was hardly a circus in the United States that did not acquire his talent(s), including Ringling Bros. and Barnum & Bailey, where he'd serve as performance director and was a center ring star. However, his talents were not at all limited to the circus world. Walt Disney personally commissioned Herriott and his animals to appear at the inauguration of Disneyland and the Mickey Mouse Circus. His elephants were featured in the MGM musical film Jupiter's Darling. Practically every major accolade in circus has been bestowed upon him, including induction into the International Circus Hall of Fame in Peru, IN and induction into Sarasota's Circus Ring of Fame. His knowledge of the circus was so revered that it is believed that there is virtually no historical account of the American circus where he is not quoted or recognized. Herriott was also a proud patriot, having served his country in the Korean War for which he was awarded the Combat Infantry Badge.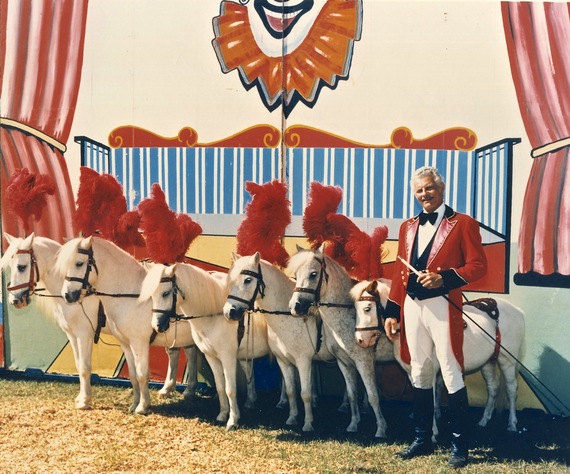 "I always knew he was good at what he did, but not at this magnitude," said daughter Cindy Herriott Wells. The recent passing of Col. John Herriott, 84, also marks the end of an era, that of the original model of ringmaster — the equestrian director. Long before the emergence of the theatrical-type ringmasters we enjoy today, spawned by the likes of the legendary Harold Ronk, the ringmaster was far more than a charismatic presence and voice. He was an expert horseman or equestrian director, which explains his renowned attire of riding pants and boots, in addition to his legendary top hat and tails. It is also worth noting that the circus rings were specifically designed to accommodate horses. In addition to his mastery of the equine arts, the ringmaster also acted in the capacity of performance director. The presentation of the show was literally his charge. He was the authority.
At the peak of his abilities and notoriety there was simply no one like Col. John Herriott. As Ludwig van Beethoven was to the eras of Classical and Romantic music, Col. John Herriot was the bridge between the eras of ringmaster — equestrian director and theatrical host. An elite horseman and animal trainer, with a knowledge of his industry that was second to none, the presence of a matinee idol and a voice for the ages, Col. John Herriott was in a league all his own.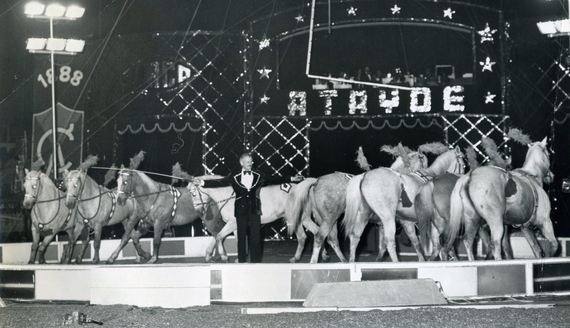 "I always thought my daddy was a god," said Laura Herriott. As the eyes are the windows to the soul, the voice is its story. So much of one's narrative is articulated through the voice. Each inflection spins a tale, and if you listen carefully it is an invitation to the truth. Therefore, it's not always what is said but how it's said. Nothing speaks to a person's character — not skill, not accolades, not the praise of strangers — than one's children. The Herriott sisters, Laura, Cindy, Heidi and Cristine, all enjoy commendable reputations as trainers, ringmasters and show owners within their industry. They are as glamorous in the presentation of their craft as they are no-nonsense in the preparation of that work, each unapologetically independent, thanks in large part to their mother, John's wife of 60 years, herself an accomplished animal trainer and equestrian, Mary Ruth. Yet, to hear them speak of their father is to hear endearing childlike vulnerability.
"It's daddy! I always thought my daddy was special," said Cindy. "We had such a daddy growing up," says Heidi.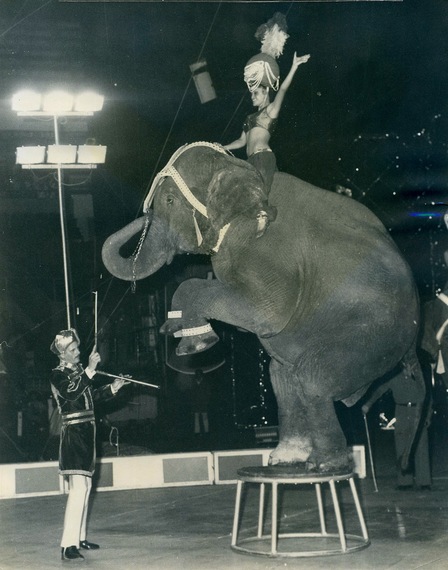 "Family always came first no matter what," recalled Cristine. "He prided himself on being a provider."
Among those provisions was the drive to rear daughters who would be independent of their parents, capable of deciding their own destiny. "I'm the odd one," chuckles Heidi. "I ventured out to do other things away from the circus, but eventually I came back."
For Laura, Cindy and Cristine, there was never much doubt where they would make their life. "I did well in school, but it was like I didn't exist. In the circus I felt special. Besides, animals were my life!" said Laura.
"Our parents simply encouraged our love of animals and the circus lifestyle," said Heidi.
For all his gifts and the prestige that they drew, he was renowned most for his generosity. "He loved to teach anyone who was serious about learning, " said Laura. "The lives and careers he influenced and touched — I can't even begin to tell you how many young people he helped," she continued. "He trained me like a prodigy. He wasn't easy."
"He expected so much more from us because we were his children," recalled Cristine.
"Sometimes I'd cry, and he'd hug me and say: 'You know I love you. It just has to be great!'" said Laura.
Indeed, it was that standard of excellence that laid the foundation to his astoundingly prolific career. Yet, no matter the success his many talents granted, his heart was always with his animals. "We actually left Ringling Bros. to go to a tent show because it gave him the opportunity to work with baby elephants, " remembered Heidi. "Nothing jazzed him up more than working with animals."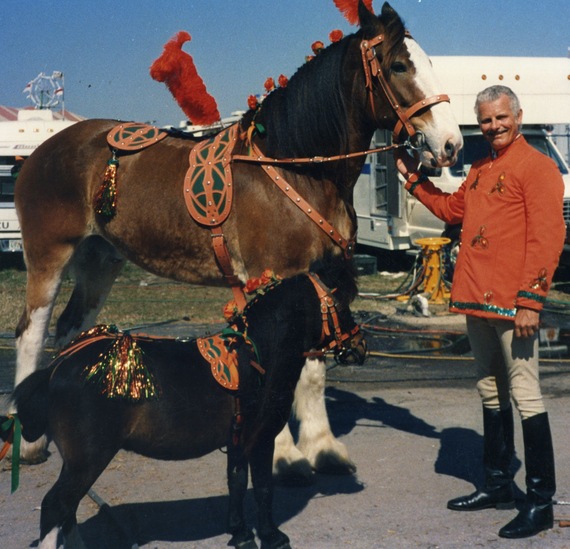 John Herriott's acts were renowned for eliciting not only the physical capability of an animal but also its personality. "'You've got to get inside their brain' he'd say," remembered Cindy.
"It was like he was telepathic," laughed Laura.
"He was all about telling a story with the act. There's a beginning, a middle and an end," said Cindy.
"I never knew anyone who respected an animal more," recalled Heidi. "He was the primary caretaker, not just the trainer."
"He was so zealous about the care of the animals, and he did not tolerate anyone humiliating a creature in anyway," remarked Laura. "Let's just say, I have quite the mouth," she laughed. "So when I'd get frustrated and let one fly, he would not have any of it: 'Don't you ever say that about an animal! It's not him, it's you!'" she remembered. "I hold to that principle in my work today. I always look at what I'm doing first. That's what a good trainer does. Dad was right."
"He never acquired the more popular breeds, like Friesians or Andalusians. It wasn't about the breed, but how he rode it. He'd always see the beauty in an animal, even when we could not," said Cindy. One night in Detroit, at the largest Shrine Circus in the country, Cindy would finally see the beauty her father referred to. Upon being introduced by none other than Tarzan Zerbini, Ringmaster John Herriott would appear atop his high school horse striding down the hippodrome track in a perfect passage into a floating trot, all while announcing — voice unbroken, making his way around the entire track with the horse giving a final bow and Herriott bellowing, "It's circus time!" The audience erupted.
"My dad loved it all," said Heidi. "He use to have a saying, 'What? And give up show business?'"
"We had a lot of lean years," remembered Cristine. Be it knee deep in a mud show or The Greatest Show On Earth it was the character of the man above all that steadied him and his family, lean years and plenty. The great ones have a remarkable way of creating for us a steep standard, daring one and all to evolve beyond what we believe of ourselves. John Herriot is no exception. It is evidenced in a legacy of immense talent and generosity; a legacy that lives on, not only in his four daughters, but in their children as well.
"When I see my daughter Jenny take to the ring with her zebras, I know that's my dad's legacy," said Laura.
As both a ringmaster and a man, it is all at once awe-inspiring and humbling to look upon the enormity of a life such as Col. John Herriott's. A steep standard he has left, and it is well worth the ascent. In circus, we never say "goodbye," rather we say "see you down the road." The Patriarch of the great American Circus has no doubt made his entry into the ethereal sphere of the Old Showman's Heaven, taking his rightful place among the greats of ages past. They have their ringmaster now, and we can only imagine how grand a show it'll be.
See you down the road, Col. Herriott.