Adrielle Alves had a secret. A secret she'd been clinging to since joining Ringling Bros. and Barnum & Bailey approximately four years earlier. Initially, she was hired to perform alongside the featured flying trapeze ensemble. She immediately proved herself remarkably capable for flight — performing everything from layouts to double and triple somersaults in midair.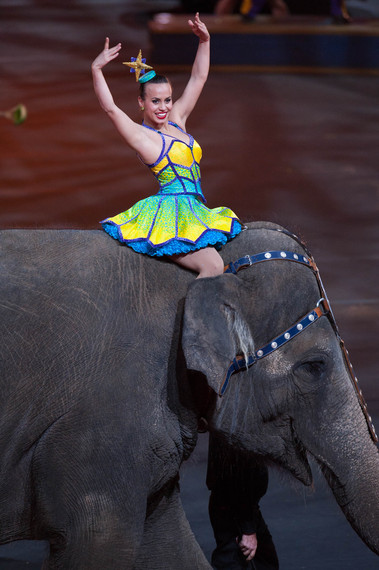 "I was born into this," says the Brazilian native. She is a fifth-generation circus performer reared on her family's legendary show,
Circo Stankowich
. The Stankowich legacy, which began in Romania, established itself in Brazil during the mid-1850's. Circo Stankowich has since become one of the oldest and largest circuses in all of Latin America, and it continues to enjoy great success to this very day.
Almost as soon as Adrielle could walk, her father Divino, who was a noteworthy trapeze artist himself, would hold her up to clutch the trapeze bar. Playtime often included Divino tossing his young daughter into the trapeze net.
"I love the circus," she gushes through her radiant visage. It is a fact that resonates in her every performance. Adrielle is like a seamless, endless stream of elation and ability. She is a stunning presence behind and in front of the curtain. She's both enchantress and action figure. Whether taking flight upon the trapeze bar nearly 40 feet above the arena floor, riding atop of one of the world famous Ringling Bros. and Barnum & Bailey elephants, cascading down a tower of silk chiffon and enchanting onlookers with her prowess upon the aerial straps or stepping in as a dancer, it is all done with the same zeal of that toddler whose daddy tossed her on to the trapeze net so many years ago. "I feel like I can do anything when I'm in the show," she says. "All I want to do is please the audience."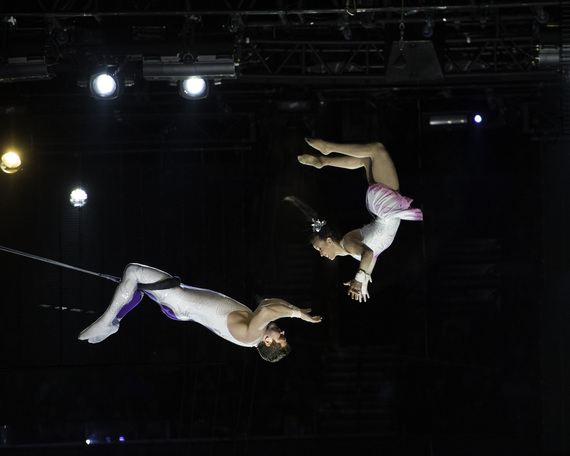 Yet, for all the joy she emits and adulation she receives, her secret still gnawed at her, until opportunity came knocking.
"I couldn't believe it when the show asked me if I'd like to try it, "she says. In the circus, opportunity is readily available for those who desire to expand their skill set in any given discipline or even create something new. The longevity of the genre is owed to just that, men and women who are driven, even daring enough to exceed themselves. In the circus, opportunity is always there for the willing, and Adrielle Alves was more than willing.
"It" was one of the circus world's most thrilling and dangerous acts, the Globe of Steel, in which multiple motorcycles race around inside a precariously small mesh globe. Alves jumped at the chance to join the renowned Torres Family inside their famous globe. "I had wanted to try it for sometime. It excited me. I always wanted to know what it would feel like to perform the act. I never thought I would have the opportunity," she confesses.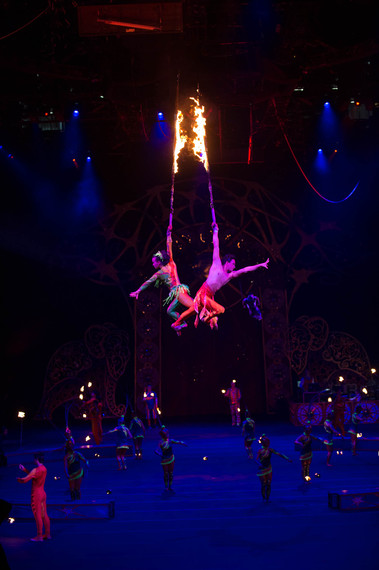 In addition to the rigors and demands of the flying trapeze, she would take the task of becoming the eighth motorcycle daredevil inside the revered metallic menace known as the Globe of Steel. Practicing for the daring act is as taxing on the mind as it is the body. Much like the flying trapeze, focus and timing are crucial. One moment of carelessness or a split-second loss of focus might end in disaster. However, as Alves would put it, "this is in my blood." Hailing from circus royalty, her respect and commitment to the craft, whatever discipline it might be, goes without saying. Her training was intense, but like everything else she put her hand to, she engaged it with her infectious enthusiasm.
"The first time I performed the act in the show, I was so terrified, but very excited at the same time," she laughs. I recall it clearly. I remember feeling anxious as well. The anxiety of watching not only colleagues, but friends, engage in mind blowing feats, day in and day out, goes with the business of being a Ringmaster. Yet, no matter how long you don this top hat, you never get used to it. Although I observed a number of her training sessions and knew how thorough the Torres clan was in their instruction, I still found myself clenching my teeth and whispering silent prayers, as she entered the Globe of Steel to make her debut. That powerful and vehement sound of steel and rubber reverberating throughout the arena, as each rider struggled to maintain their respective paces, was far more nerve-wrecking than usual. Relief would soon overcome me as they concluded the act. Thunderous applause would quickly give way to wild cheers, which immediately became an ecstatic roar upon the audience seeing the gorgeous solo female member whip her hair back and raise her fist to their satisfaction.
In no way is Alves an anomaly. She is a part of a long tradition of circus artists whose abilities seem to know no limits — the world's original superheroes, for whom a multiplicity of endeavors appear to bend to their body, imagination and will. Adrielle Alves is a high-flying, dancing, elephant-mounting daredevil — a circus wonder woman come to life. One can only imagine that with her boundless talents and love for all things circus, she'll have many more inviting adventures in store for Children Of All Ages.