"I never wanted fame; I just wanted to be valuable," says Peggy Williams. Such a sentiment sounds terribly out of sorts in the age of selfies and YouTube stardom, where fame is the sole aspiration. For Peggy Williams, such a sentiment isn't hyperbole, it's simply the truth.
Peggy's journey to The Greatest Show On Earth makes a strong case for the idea of predestination. As a speech pathology major specializing in deaf education at the University of Wisconsin, Peggy sought to learn how best to use her hands to communicate. "It dawned on me that clowns use their bodies to tell stories, and I thought, who better to learn from?" she says. "So I ran away from the University toRingling Bros. and Barnum & Bailey Clown College." With only a few clothes, a guitar and a Singer sewing machine, she ventured off to further her studies.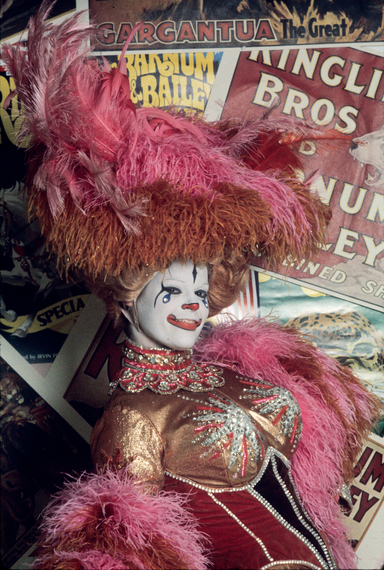 The plan was to delve into the 10-week curriculum of greasepaint, slapstick, pratfalls, pantomime and everything in between and return to the university with her newly acquired skills to finish her degree. But, we all know how plans tend to work. Everyone has one until life happens. Delve in? She most certainly did. By her third day at Clown College, she injured her foot. This meant she would not be able to acquire the more acrobatic skills while at the college. It also meant that she was likely to be sent home. Still, Peggy had a Singer sewing machine, and in a place where the participants are required to make their own costumes, let's just say — an exception was made. "I became very useful, so they were merciful enough to let me stay," says Peggy. "Besides, by Clown College rules, due to not being able to fully take all of the classes, I wasn't eligible to receive a contract with the show." So, her foray into Ringling Bros. Clown College now became strictly educational. That was the new plan.
With mere days until the course was complete, Peggy's foot mended, and she was able to appear in the graduation performance, then prepare to make her way back to Wisconsin. There was just one final matter to attend to. Irvin Feld, then owner of Ringling Bros. and Barnum & Bailey®, wanted to hire her. Obviously, the formidable impresario wasn't familiar with Peggy's plans. "I actually tried to talk Irvin Feld out of hiring me," she laughs.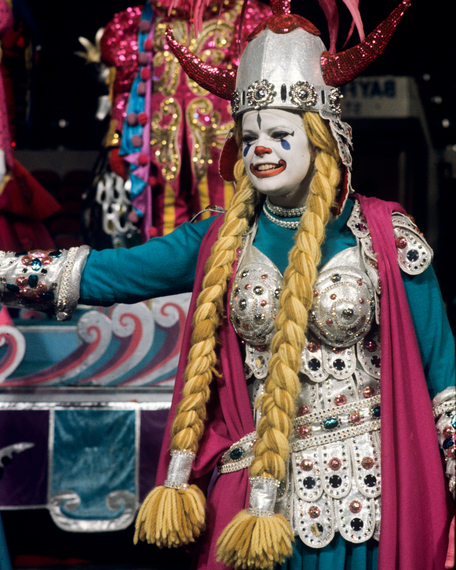 Peggy Williams would embark upon a decade-long career, for which she is recognized as the first woman to graduate Clown College and acquire a contract with The Greatest Show On Earth. Her life in that inaugural year was a whirlwind of press. The would-be speech pathologist had now become an unintended symbol for women and girls everywhere. When Williams joined Ringling Bros. and Barnum & Bailey, she found herself swept up in the winds of change implemented by Irvin Feld. Everything from moving the show out from under the big top tent into arenas to recruiting the show's very first all black-act, the King Charles Troupe, The Greatest Show On Earth, much like the country where it was established, was being re-imagined.
Yet, with change there are always complications. "They weren't ready for me," says Peggy. There was the envy of peers, due to her getting a lot of media attention. "Every day for the first six months I did press," she remembers. There was also the mixed reaction she received from women and the stark reminder of how so many women saw themselves at the time. She recalls a conversation with a grandmother and her granddaughter in an elevator at one of the venues. Peggy was not in make-up, as she was en route to the show. "The grandmother asked me what I did for Ringling Bros.," says Peggy. "When I told her I was a clown — like a reflex she said, 'oh, girls can't be funny!'" Even determining her dressing quarters at the venue presented a quagmire. Being the only woman among the clowns, she was unable to share that space, but due to the kind of powder used for clown makeup, the clowns were prohibited from entering the wardrobe space of other performers lest makeup powder dull the sequins on the costumes. Eventually, the matter would be resolved. Moreover, many of the challenges Peggy endured those first few years would work themselves out. In fact, even that grandmother from the elevator encounter would realize that girls can be funny after meeting Peggy once again, this time in her element, The Greatest Show On Earth. "The following year I modeled my costume after her," laughs Peggy.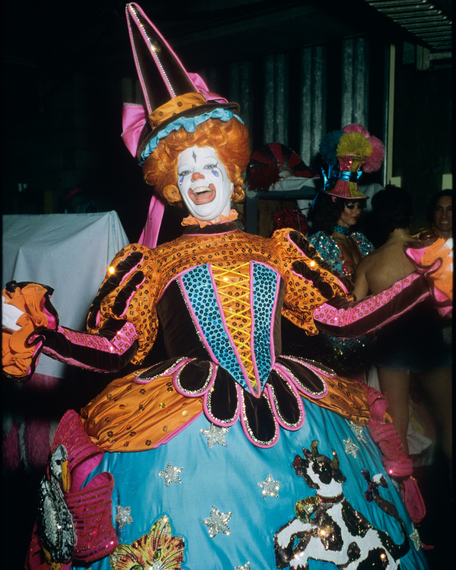 Though she had no intentions of returning to the University of Wisconsin, her education was far from over. Whether through the vocation of clowning, travel or engaging with people of many lands, the lessons learned would be practical and continue to serve her throughout her career and life. "I came to Ringling Bros. when the older clowns were near retirement. There weren't any books or videos, and clowning wasn't codified. All we had was the knowledge of those clowns. The role of Clown College was to codify all of that experience. That's why we had apprenticeships," says Peggy.
As if her journey weren't charmed enough, Peggy Williams would serve her apprenticeship under none other than the iconic Lou Jacobs. "He was amazing. He taught me so much just by his example," says Peggy. Her commitment to character development and craft led her to seek the wisdom and mentorship of others like the legendary Bobby Kay. "He was meticulous about what the public took away from seeing a clown. He understood the fine line between being memorable or obnoxious," she remembers.
When the pursuit of excellence in craft is habitual, the memories one makes are unimaginably impactful. It was during an event for a program that served autistic children that Peggy experienced this simple truth. "One of the more severely autistic children who didn't react well to being touched, allowed me to dab her nose with red makeup, as to give her a clown nose," says Peggy. "For me this was just work; for those who worked with that child daily it was a miracle."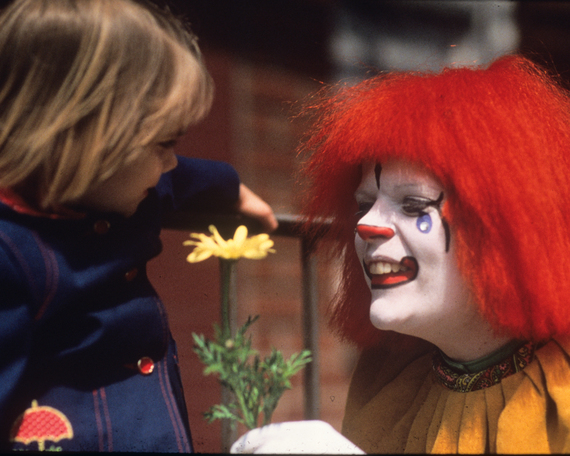 Much like the circus rings, life has come full circle for Peggy Williams. She's back in education. She has long since removed the greasepaint and hung up her clown shoes. She is now the education outreach manager for Feld Entertainment®, parent company to The Greatest Show On Earth. Through its education and outreach programs, students are afforded a real-world experience with much of the logistics that go into creating live show extravaganzas. The leading company in live family entertainment grants this invaluable gift of access to young men and women, all overseen by Peggy Williams.
However, once a clown, always a clown. "I see life through the filter of a clown. It goes with you and enriches your life," she says. Invited by the Mooseburger Clown Arts Camp, Peggy was enticed into donning the greasepaint once again. "Clowning is not dead and neither are the circus arts," she says proudly. The budding cut-ups prepared to receive something far more valuable than entertainment — they were going to hear her story. They readied themselves to receive the seasoned wisdom of one who not only traveled the road they've chosen, but also blazed a trail in the process. To them and to the many who've reveled in her comedic talents and educational sensibilities, she's been more than a famed trailblazer; she is indisputably valuable.