"I'm still accepting my new life," says Christina Cantlin with an easy smile. It is an experience I know of all too well. During my hiatus away from The Greatest Show On Earth®, adjusting to a life sans the majesty and wonder of soaring bodies, breathtaking feats and brilliant animals was analogous to awakening from a most extraordinary dream to the mundane gravity of the world outside of the big top.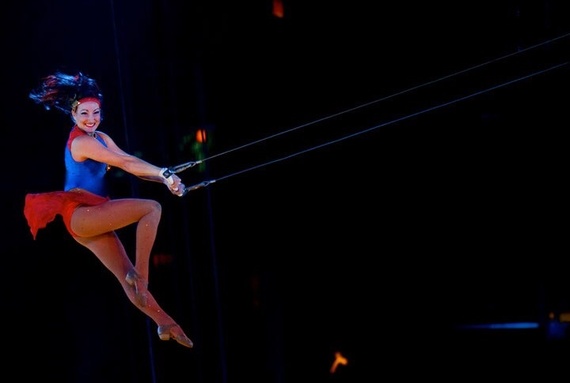 Circus is a magical existence few come to know and even fewer are able to let go. To outsiders you're the great curiosity. Being introduced to her colleagues atStuller, Inc., Cantlin, who is the Director of Business Development for the State of Florida, no doubt piqued the interest of those around her. Her career profile proudly displays her tenure as a professional trapeze artist. During her career in flight, she would perform for Ringling Bros. and Barnum & Bailey®, Circus Vargas and Cirque Du Soleil's La Nouba — a remarkable feat when you consider the first time she grasped a trapeze bar was at the age of 25.
Cantlin's journey began at a chapter of Trapeze School New York, which was set up at Jordan's Furniture entertainment complex in Reading, MA, where the company motto is, Forget fear. Worry about the addiction. It was a motto that instantly seared into Christina's heart. "It was the clearest moment of my life," she says. "I knew I had to do it."
A compulsion is never convenient. It just is. There's no shade of gray; you either accept it or you spend your days regretting that you never did. Cantlin determined she would not join the massive chorus of those who choose the latter, spending their days bellowing sighs of what might have been. "So many people spend their whole lives looking for their passion. Imagine if I never walked into that furniture store? I would have never known," she says.
Cantlin, who attended Northeastern University where she majored in Mathematics, applied her well-schooled analytical mind and drafted a plan. She'd been a gymnast in high school and a cheerleader in college, but pursing a career on the flying trapeze at 25 years old was a tall order. Cantlin would give herself two years to make it happen. The first few months she took two classes a week while working full time at a very comfortable and well-paying corporate job. But, alas, compulsions are a possessive thing. If she was going to achieve her goal, a part-time commitment was not going to do.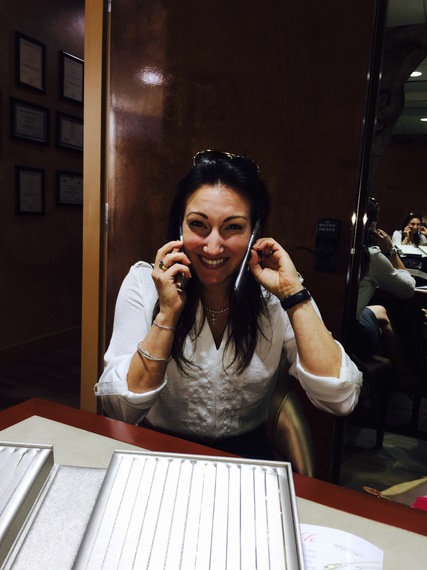 "I remember turning in my resignation, going to my car and crying," she says, "because I was free. I was happy. I didn't know what the future held, but I knew I was at least going to try." She plunged herself full-time into her dream, seven days a week. Nine months from the time she began her training, she was scouted by none other than
The Flying Caceres
who were contracted with Ringling Bros.®.
I remember the first time I saw her. She was aglow with excitement. She and I clicked instantaneously as she recounted her journey up to that point. It was evident from her first practice she was in her element. She flew with the joyful zeal of a little girl on a swing, and it seemed just as effortless. You could see her smile even 40 feet above the ground.
"I think there are different types of intelligences," she asserts. "I believe mine is kinesthetic." She's in good company. Howard Gardner of Harvard University and author of Frames of Mind: The Theory of Multiple Intelligences, espouses this idea. "You have to address how you learn and what you're good at learning," says Cantlin. "I believe this is why I was able to find success, even though I began training at an age most might consider advanced for the trapeze."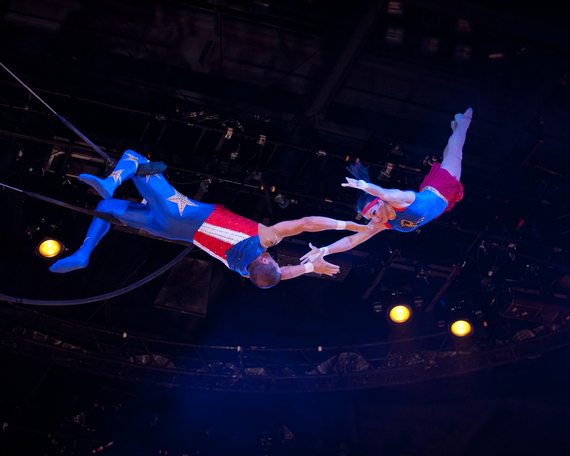 Christina continued to excel, taking her well-honed aerial skills as far as Japan with her very own troupe, Pro Star Flying Productions. She would take her final dismount with Cirque Du Soleil's La Nouba, concluding a brief, yet terrifically significant career. She credits her time on the trapeze with giving her the confidence to venture toward the new chapters in her life, although she concedes there are still spatters of sawdust in her soul. "I still do handstands every day, I think it will always be a part of my life" she says with a smile. "I don't think I'll ever be grounded."