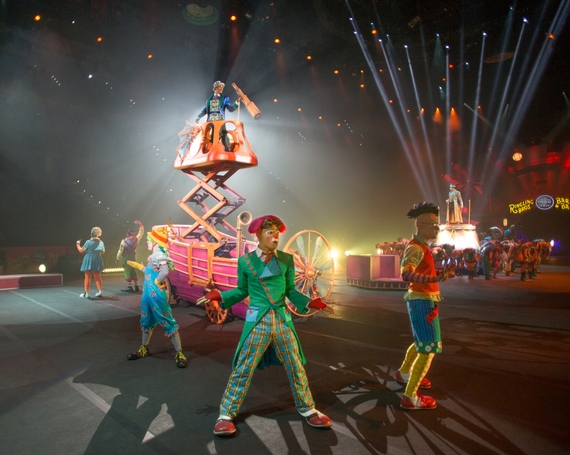 As a child, Brian Wright's discomfort about and around clowns was the product of Hollywood's sordid depictions, including most notably Stephen King's infamous classic, It. Not until his first trip to The Greatest Show On Earth, would his fears and apprehensions be alleviated, and the innocence of his imagination be restored. So much so that the seeds of aspiration would be planted. "That trip and those performers not only showed me clowns were nothing to be uneasy about, but that they were pretty awesome," says Brian. "From that point, this is all I've ever wanted to do."
And do it he would, every Halloween. "When I was younger, I thought that was the only time I could be a clown." For his family it was cute, a passing phase, nothing more. A period he was sure to grow out of. At best, his early clowning would produce stories his parents could embarrass him with when he grew older.
Every clown has a story about when they knew they wanted to be a clown. Perhaps it was that first trip to Ringling Bros. and Barnum & Bailey, or an insatiable desire to affect others through laughter. But when Brian was a teenager, he'd found new interests: wrestling and comic books. Suddenly, the boy who lived to clown every Halloween, for whom the laughter of others was a kind of intoxicant, was now "done with going to the circus." Perhaps his family was right after all.
"It was my 17th birthday and my girlfriend — now my wife — got me tickets for the circus, because she knew how much I used to love it." He hadn't been in years, yet the experience nearly moved him to tears. "I was so happy."
Wright decided then and there that he would commit himself to the art of clowning. "I knew one day I'd be part of The Greatest Show On Earth." For Brian, there was no Plan B. It was clowning or nothing. He took courses in physical comedy. He enrolled in the Mooseburger Clown Arts Camp. His entire existence centered on the study and practice of clowning. Then came the moment he dreamed and dedicated himself to, an audition for The Greatest Show On Earth. His dream was deferred as he was not chosen. More practice, more study, more camps, another audition for Ringling Bros. Dream deferred. More practice, more study, maybe third time's the charm with yet another audition for The Greatest Show On Earth. Dream…achieved! "It wasn't easy, but it was all worth it." At present, Brian can be seen alongside his comrades in hijinks and slapstick in the legendary Clown Alley in Ringling Bros. and Barnum & Bailey Presents Circus XTREME.
Still bearing the zeal of that child who first saw the circus so many years ago, the Brooklyn native continues to grow as an artist. "I define the art of clowning as a perfect reflection of the everyday human being. In each one of us, the audience can see themselves. We are the most relatable performers in the show."
One of the great gifts clowning grants its practitioners is the ability to use that which might be considered a flaw or short-coming for the person, as an asset for the clown. "I cannot dance to save my life," says Brian. "However, during our All-Access Pre-Show, we have a dance party. So, I think to myself 'How can I make this funny?' The answer was to make it honest. I never accomplish the Macarena during the party until the very end. By that time, people on the floor with me are on my side. They're rooting for me to try and get the dance right. It's the most awesome feeling in the world."
Clowning, though it conjures belly laughs and draws out the fun in even the oldest child, can also tempt some to forget that there's a human being behind the greasepaint. "People believe that because I am a Black American, my character should reflect that in some ridiculous way. I was referred to as Homie the Clown by a complete stranger. That's not me and never will be. You want to be happy and make others happy. But, if that's all they see you as, it becomes quite difficult."
In spite of the occasional difficulties, Brian Wright refuses to lose his joy. After all, it is that same joy that birthed the life of his dreams. It's the life he's imagined since that first visit to The Greatest Show On Earth. The life he recommitted himself to when he thought he'd outgrown it. The life that allows him to practice daily what P.T. Barnum once said, "The noblest art is that of making others happy."
Recently, Brian had the pleasure of learning that the best clowning isn't always in the pratfalls or elaborate gags, but in the simplest kindness. "There was an audience member who hadn't been out of her home in years. Her first time out was to visit Ringling Bros. She just sat in her walker in the handicapped section of the arena all throughout our All Access Pre-Show. I went up to talk to her. She explained everything to me, and I made it my mission during that show to make sure she had an amazing time. I visited with the family during intermission and even after the show. They thanked me profusely. I could see it in their eyes. I was 'their clown.'"
With a heart like that, we can only hope Brian Wright is our clown for many years to come.