For Bernice Collins, life in Kansas City, KS, was quaint and easygoing. She was one of six children in a musical, church-going family. Her father, a musician, emphasized education, encouraging his children to learn all they could and try to see as much of the world as possible. Somewhere in Bernice's young imagination her father's charge to see the world must have taken root, being nurtured every year that Ringling Bros. and Barnum & Bailey® came to town. Without fail Bernice's mother would whisk her and her siblings away to The Greatest Show On Earth®, but by the time she was 14 years old, "I knew I needed to be a part of it," she says.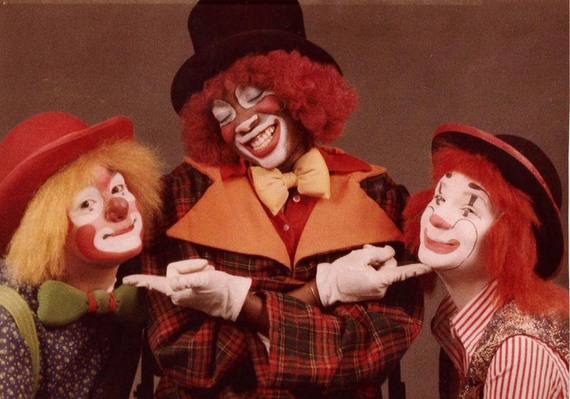 In the classic tale of The Wonderful Wizard of Oz, Dorothy and her dog Toto are engulfed in a tornado that brings them out of Kansas and into the enchanted land of Oz where they embark on a myriad of adventures, all in an effort to get back home. Stories abound about the legendary spell of the circus, and though it is not a tornado, its magnetic pull is just as powerful, as is evidenced in the many stories of those who've run away and joined the circus. Bernice Collins was mesmerized, and for her, there was no turning back. She had to be a part of the world of the circus. However, "where I was living and where I was raised, it wasn't going to happen — so I had to make it happen," she says.
It was the year The Greatest Show On Earth didn't come to town that Bernice, now 18 years old, would venture to Chicago where the show was playing. After every show, she'd make her way backstage or wait in the stands to watch the performers practice. Before long she'd become familiar with members of the cast, even being invited to their legendary living quarters, the Ringling Bros. and Barnum & Bailey Great American Circus Train — the largest privately owned train in the world. "I wanted to join, but I had no real circus skills," Bernice says. However, she recalls with a laugh learning about Clown College and thinking, "well, I'm cute and funny — this could be my way in."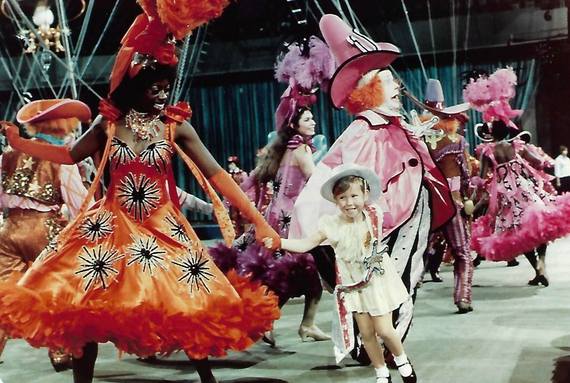 It was at the famed Ringling Bros. and Barnum & Bailey Clown College® she would learn to hone her "cute and funny" via a rigorous curriculum of comedic and circus education. Little did she know that her adventure would have historical ramifications; in 1977, Bernice was selected as the first Black female clown in the history of The Greatest Show On Earth. "I had a lot of fun clowning," she exclaims.
Her historical tenure would eventually give way to her love of dance. "My roommate on the show was a showgirl, and when we played New York, she took me to my first dance class," she says. "I started taking Jazz,and as my clown character I would mimic the choreography of the showgirls to the point that I was actually doing it as well as them!" After two years, Bernice would come out from behind the grease paint and step in as a showgirl, a position she would dazzle in for the next four years.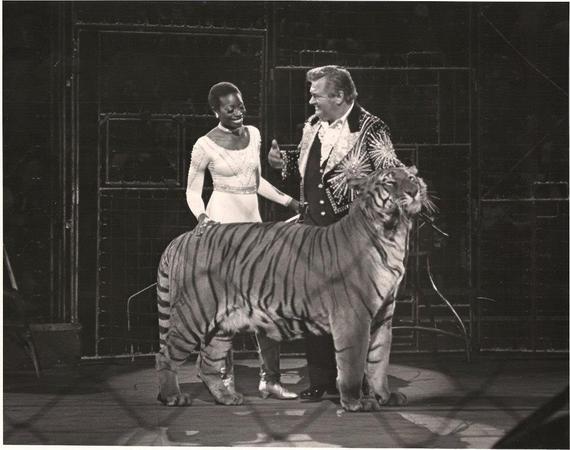 However, she still harbored a deep desire to work with the real stars of The Greatest Show On Earth, those fabulous animals. It was a desire she made clear as early as her first contract as a clown. "I always wanted to work with animals," she says. "My idols were Charly Baumann, Ursula Böttcher, Gunther Gebel-Williams and Mabel Stark." Six years into her circus career, the bright-eyed girl from Kansas City would find herself under the tutelage of none other than the great Charly Baumann. "Having had the opportunity to work with him in the ring was very special," she says. In a very short-lived stint, Bernice would make her debut with the big cats in 1983 in Worcester, MA. "I presented the act 6 or 7 times before it was decided we wouldn't pursue it any longer," she says. "It's difficult to train while on the road. Big cats need focused time."
But, Bernice wasn't through with the four-legged stars. Following a brief hiatus, she would return to Ringling Bros.® as a showgirl. After hanging up her dance shoes, she would be offered the opportunity to present horses, and this time she would have the focused training necessary to present an act worthy of The Greatest Show On Earth. "If you don't ask for what you want, you're not going to get it," she asserts. "After all, Ringling Bros. is all about looking for the next never-before-seen act or idea, so the opportunity is always there."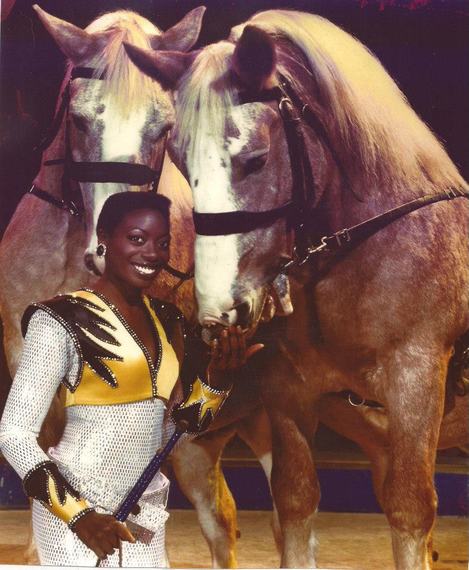 With her beloved Kansas in her heart and sawdust in her veins, Bernice continues to enjoy a thriving career in the world of the circus, her own land of Oz; she has also presided as Company Manager at Big Apple Circus and is currently working with Cirque du Soleil's Zumanity in Las Vegas, NV. Through it all she's most proud of having shared her incredible journey with her parents. "I've been able to do for them what they were not able to do for us as children. I took my parents to Disneyland," she laughs.