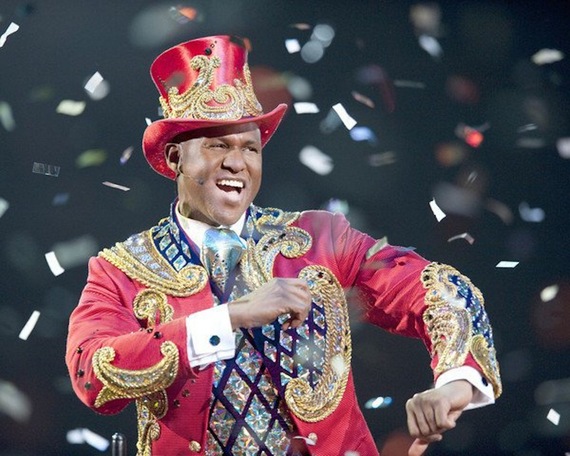 There I sat across the table from the legendary Vice President of Talent and Production for Ringling Bros. and Barnum & Bailey®, the late Tim Holst. He'd flown into the quaint city of Fort Atkinson, WI where I was performing at The Fireside Dinner Theater to conduct my final audition, interview me, and eventually offer me the contract that would change my entire life. "Congratulations, you're now the Ringmaster of The Greatest Show On Earth®."
I was young and so very green, but I knew this was an enormous opportunity. However, it came with something a lot weightier — history. Holst, himself a former Ringmaster, informed me that if I were to accept the position I would be the first black American in what was then the 129-year history of Ringling Bros. and Barnum & Bailey to preside as Ringmaster.
It's one thing to garner such an opportunity and all that comes with it, but when you're thrust into the role of a trailblazer, that spotlight feels a lot like a microscope. Instinctively, I understood what was at stake. Anyway you twist it or turn it, when you're the First, you're the case study; and for better or worse, how you perform will determine just how wide that door of opportunity will swing for others. You venture forth into your endeavors with the knowledge that good is not good enough — you must be exceptional. For all eyes are on you, in particular the eyes of those who look like you. All that mattered to me then and now was to not merely fulfill my duties as Ringmaster, but by the grace of God to exceed expectations. What you want most when you're in such a position is for everyone to exhale and rest assured that not only were the powers that be correct in selecting you, but that those standing outside that door are welcome to walk through if they so desire.
I concede that I wrestled with the notion of being the First. Knowing that so many hopes rest on you can make any endeavor a burden. The implication that your every move has historical ramifications has a way of producing such an effect. The reality was that I simply didn't have the luxury of merely representing myself. Like any First, you are something more. Yet, even as I tussled with history I knew I was groomed my entire life to carry such a burden. For many like me are taught from our youth that in this society, we represent far more than ourselves. In fact, before each tour as a member of The Boys Choir of Harlem, especially international tours, the late Dr. Walter J. Turnbull made it clear that we were more than handsome, young men with angelic voices. We were ambassadors: ambassadors for our families, our nation, our Harlem community, and our people. I knew then, even as a boy, that history was in the shadows and my responsibility to it and to those who paved the way was non-negotiable.
My contention with the idea of being the First would give way to the tears of a single mother I'd met in Chicago that first year of my tenure with The Greatest Show On Earth. "I needed my sons to see you!" she exclaimed as she grasped my hand tightly. It gave way to a precious little girl in Los Angeles who exclaimed to her adoptive dad, "He's brown like me! He's brown like me!" It's given way to knowing smiles, bear hugs, stories of what life was for some and the thankfulness they feel to have lived to see this moment. I'd always dreamed big, but I never thought I'd be someone's "moment." Most recently, a teacher during our engagement at the Van Andel Arena in Grand Rapids, MI spoke of one of her students' utter astonishment at seeing me in the show. "They have a black Ringmaster and he's from Harlem?" the student exclaimed rhetorically. According to the teacher, many of her students are from those parts of society often written off and ignored by the public, as was so vividly evident in the student's final question. According to the teacher, her pupil, as if she'd had an epiphany, asked simply, "So, I can get out?"
To be the First is to recognize that the opportunity you've been given or the trail you've blazed is so much bigger than you. It reverberates for the ages. You are someone's "moment." Needless to say, I don't wrestle with history anymore. What was once a burden has for some time now been a welcomed responsibility. To be the First is to be a catalyst for progress and a broader and equitable playing field. Though that progress may very well be contested by peculiar challenges – as was the case for notable Firsts of The Greatest Show On Earth such as the King Charles Troupe, Reggie Montgomery, and Peggy Williams – it always moves us forward for the better.